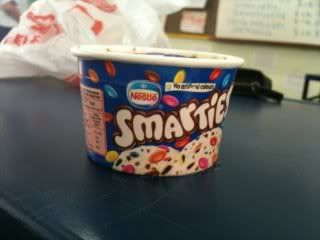 20MAY; GIVEN BY BEE ! ♥
SOMETHING THAT WILL MELT ! BUT IT MELTED MY HEART BEFORE IT MELTS.
I ASKED HER WHY SHE CHOSE TO BUY ICE-CREAM FOR ME ?
AND SHE SAY CAUSE I ONCE TOLD HER THAT WHEN I'M SAD I LIKE TO EAT ICE-CREAM.
SHE IS SO EFFING CUTE RIGHT ?
SHE ONLY THOUGHT OF MAKING ME HAPPY.
HELLO BEE, THE ICE-CREAM WILL MELT IN LIKE 15MINS TIME !!
BUT THANK YOU, YOU DID MANAGED TO MAKE ME HAPPY.
STUPID BEEEE ! YOU'RE ALWAYS SO SWEET !
THERE'S WHY YOU ARE MY WIFEYYYYY !
LOVE UP LOVE UP !